Sugar. It comes in many shapes and sizes.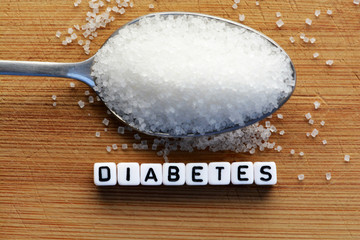 When it comes to type 2 diabetes and sugar consumption – it matters what type of sugar you are consuming. So what's good sugar and what's bad sugar? Can you tell the difference?
The word sugar is a nutrition buzz word flying around my office year after year. I have patients question whether they can or can not have different types of foods that contain sugar.
As we all know, sugar is naturally found in a lot of foods, but it's also added to a lot of foods.
Now why is it that some of you stay away from certain fruits and vegetables because of its "sugar content" but continue to drink soda and juice or eat large portions of pasta and Girl Scout cookies? Then they end up in my office questioning why weight loss is so difficult. Ummmm, hello!!!
"I don't eat beets because they are sugary."
"I ONLY drink one soda a day. But it's made with real sugar."
"I don't eat carrots because they are too sweet."
"I HAVE to have one cup of juice in the morning in order to take my medicine."
"I stay away from grapes and bananas because they are full of sugar!"
Any of these sound familiar?
I literally can't say it enough – sugar is sugar is sugar!
As a population we are eating too much added sugar and it's having a negative impact on our health. 
Sugar contributes so-called 'empty calories' to our diets and high sugar consumption has been linked to obesity, diabetes, heart disease, fatty liver disease, dental caries and some cancers.There are plenty of compelling reasons to limit added sugar intake. Not including naturally occurring sugar found in fruits and vegetables. Having said that, it's the portions that are important.
Aside from looking at vitamins and minerals, here is a short health comparison of some foods and beverages:
One 12oz regular Coke contains 140 calories, 39 grams of added sugar or about 10 packets of sugar. Zero fiber.
One 8oz orange juice contains about 110 calories, 26 grams of sugar or 7 packets of sugar. Zero fiber.
One whole medium orange contains about 60 calories, 12 grams of sugar or 3 packets of sugar. Three grams of fiber.
One half cup of grapes contains about 50 calories, 12 grams of sugar or 3 packets of sugar. One gram of fiber.
One cup of carrots contains about 50 calories, 6 grams of sugar or 1.5 packets of sugar. Four grams of fiber.
One medium banana contains about 100 calories, 14 grams of sugar or 3.5 packets of sugar. Three grams of fiber.
One cup of beets contains about 35 calories, 7 grams of sugar or 2 packets of sugar. Two grams of fiber.
Does this surprise any of you? Naturally occurring and added sugars are two very different things.
It's important to pay attention to fiber content also. A cup of juice is so easy to drink yet provides zero fiber and a concentrated amount of sugar. Compare it with the orange as noted above. More fiber = increased feeling of fullness. Not to mention a ton of other health benefits.
You're not going to get diabetes from eating too many carrots! You're not going to gain weight from eating beets and bananas. Now if you keep drinking that soda or juice or any other sugar-sweetened beverage you WILL gain weight and you WILL have an increased risk of developing type 2 diabetes and/or increasing your chance of diabetes complications. When your weight increases your blood sugar increases.
Moral of the story
Eat whole fruits and vegetables and drink less sugar-sweetened beverages. I recommend to avoid soda. Yes, even diet soda. At the end of the day it's up to you to make smarter choices.
Now go be the best version of YOU today! It's never too late to start taking care of yourself.